The Easiest Way to Financial Freedom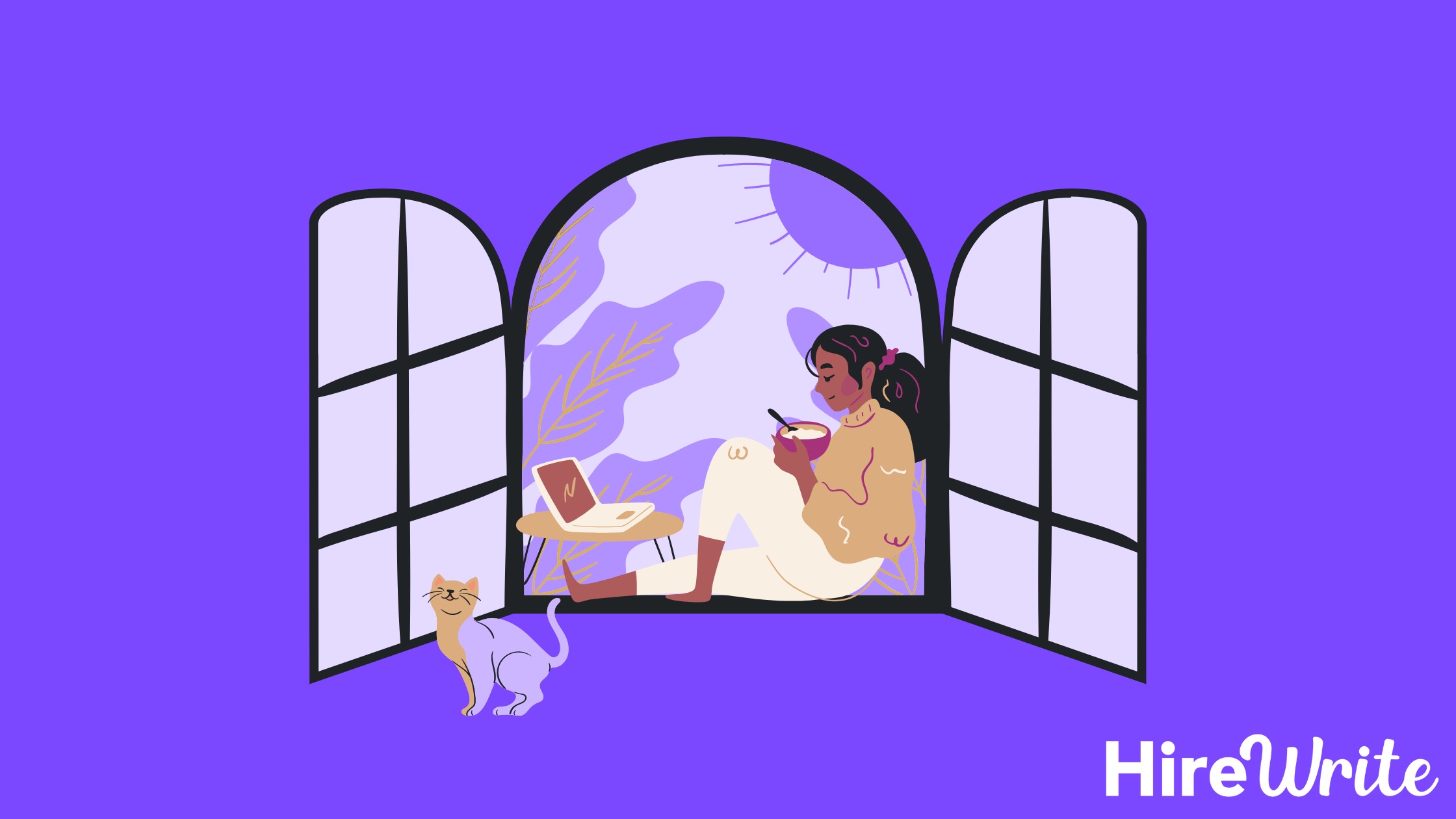 HireWrite Team
We are in the era of 'hustle culture' and let's be honest, there's a whole lot of talk and not a lot of action.
Head over to LinkedIn and you'll see thousands of people giving motivational advice, talking about financial freedom and 'hustling'; whilst they work a full-time office job, 5 days per week, 8 hours a day.
The 8-hour work day in an office or factory is a thing of the past. The original idea was invented by Robert Owen in 1817, long before computers and automation even existed. Maybe back then this concept worked, however in today's world, you simply don't need to be working 8-hour days to earn a good living.
It might be a whole lot easier than you think.
Making A Living From The Simplest Of Skills
Writing is a skill almost all of us have, and learn at a young age. If you can write, you can (potentially) earn millions a year. Although that may sound ridiculous, I can assure you that many people have done it.
I've been getting paid to write for over 4 years now, and it has allowed me to be location & time-independent, whilst earning more than most full-time jobs. It's a huge misconception that you have to be the best writer out there in order to make money from it, but this simply isn't true. Just take a look online at the content some large companies release. You'll see a varied level of quality, some content being well written and some being just straight up awful. However, the person on both ends of that skill spectrum is still getting paid.
Let's take a step away from being an independent writer and look at what writers get paid in full-time positions. According to the U.S Bureau of labor statistics, the median pay in 2021 for writers was $69,510 per year or $33.42 per hour. That's an incredible salary for a skill that anyone has and can improve on relatively easily.
In this article, we want to focus on being location-independent and having total freedom, whilst still earning a living. So, let's focus on how to become a successful freelance writer. Here are 5 simple ways to get you started.
1 – Choose Your Niche
The fastest way to earn money as a freelance writer is to start writing content for small businesses & brands. The easiest way to get started is to choose an area of writing that you have an actual interest in, some examples could be:
Automotive
Fashion
Health & Fitness
As Steve Jobs famously quoted "The only way to do great work, is to love what you do". If you have a genuine interest in the area you're writing in, you will produce better work, and clients will see this passion. If you aren't sure which niche to pick, I advise picking a topic related to your day job, as you will already have existing knowledge that you can leverage.
2 – Start Writing
It's as simple as that, once you have your niche defined, you simply need to just start writing. The easiest way to do this is to start a blog or post to medium.
If you're short on ideas for what to write, simply read other blogs of businesses or writers in your chosen field, and start drawing ideas from the content you're reading.
3 – Build Your Personal Brand
This is a hot trend right now, building out a personal brand. If you want to get noticed as a writer and have clients reach out to you, then you need to start sharing your writing so that it gets read.
The easiest way to do this is via social media. I find that the fastest way to build your personal brand as a freelance writer is to use Linkedin & Twitter. Linkedin is the best social media platform for freelance writers to share their work on, and it's simply because you can directly target and build an audience in your chosen niche.
If you've chosen to write in the finance niche, you can connect with finance professionals and join financial-related groups, meaning that when you share your content, the majority of people seeing it are already likely to be interested in your work.
When I first got started as a freelance writer building a personal brand is what brought me my first few clients. It was a great way to connect and network with other business owners in my chosen niche and to warm up leads before trying to sell them writing services.
4 – Network Within The Writing Community
This point ties in a lot with building your brand, there are tons of communities out there on Facebook, social media, and potentially even local meetups in your city.
It's worthwhile networking with experienced writers so that you can learn from their mistakes and successes. You can also look for advice or guidance as to your writing style, which will help to improve the quality of work you provide, leading you to grow personally as a writer.
Another benefit of joining a writing community is that as you establish a reputation, other freelancers may look for opportunities to share the workload with you, and pass off clients whom they are either too busy to take on or simply don't have the knowledge in the clients' specific niche.
5 – Find Paid Writing Opportunities
Get yourself out there and scout for clients that are actively looking for writers. Getting your first paying client is the first milestone in achieving financial freedom as a writer, and It's a great feeling when you finally close that first deal.
Making use of freelance platforms for writers is the easiest way to get started and find businesses and entrepreneurs that are looking for writers to work on their next project. HireWrite has been specifically developed for writers that are looking for freelance or permanent work. If you haven't already, get signed up now so that you can start looking for your next opportunity.
Other popular and easy methods for finding clients are:
Linkedin – Connect with businesses and introduce yourself as a writer. Briefly explain your services, and try to set up a call to discuss in more detail if they're interested
Contact local businesses – it can be as simple as dropping a leaflet or business card to businesses in your local area. There are most likely tons of small businesses within a mile or two of your home that could benefit from having high-quality content and copy.
Closing Thoughts
Stepping outside your comfort zone and trying something new can be daunting.
Ironically, it's the first step that is both the hardest & easiest step to take.
Once you overcome the fear of just getting started, a whole world of opportunities starts to open to you, and success has a compounding effect. Once you reach this point, you'll start to realize that reaching financial freedom isn't so hard after all.
If you're looking for a more in-depth solution to start a freelance writing business, check out the HireWrite academy where we show you How To Build a Profitable Freelance Writing Business in 30 Days.
Subscribe to our newsletter
Get the best new writing jobs and HireWrite updates straight to your inbox.
Looking to start a freelance writing business?
We've created HireWrite academy. Offering the best in the business training to help you get started and build a profitable freelance writing business in 30 days.