Top Tips For New Freelance Writers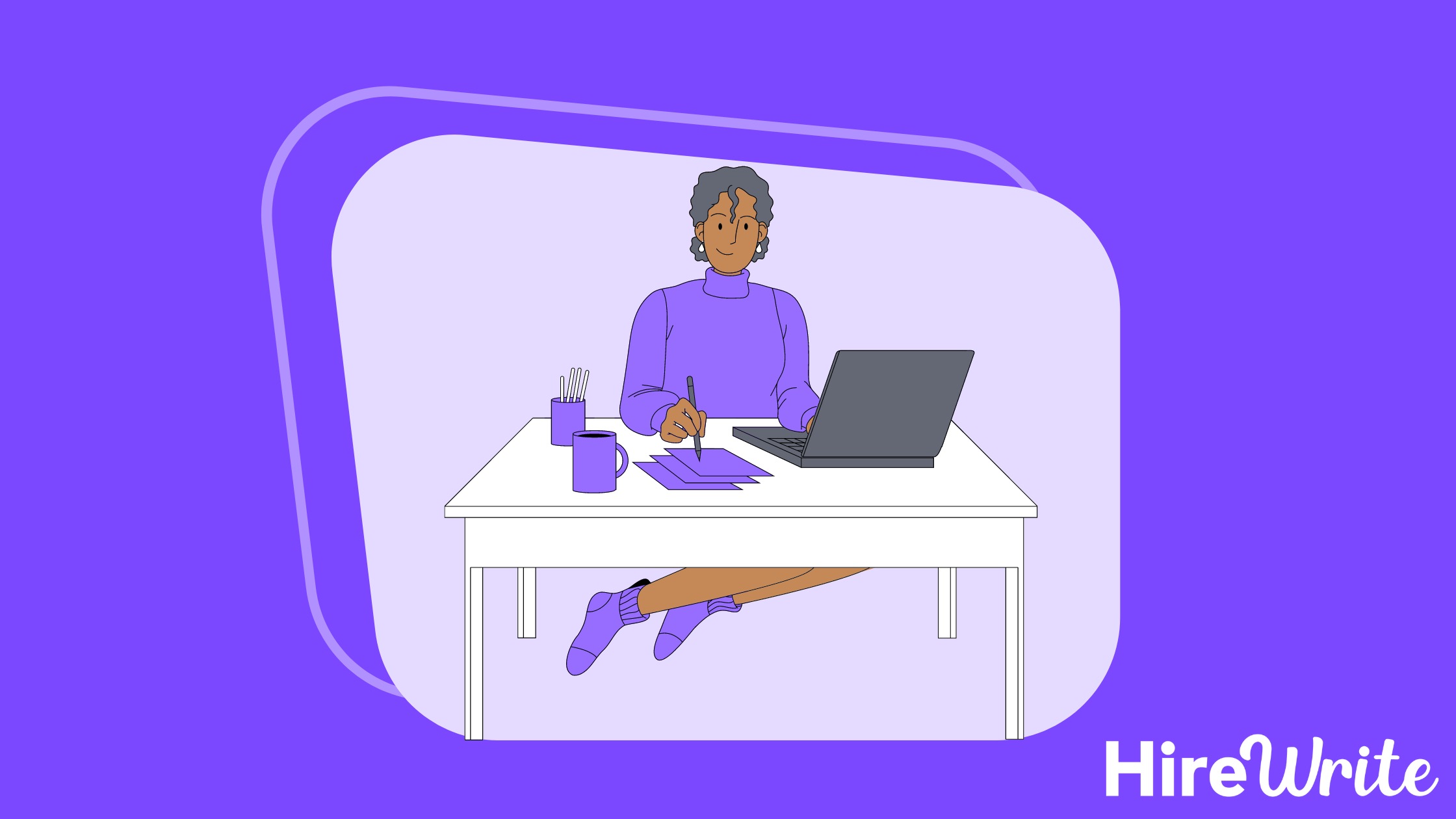 HireWrite Team
Everyone wants to be a freelance writer and stand out. You are not alone.
Allow the journey to be an exciting one with a can-do attitude and go with the flow. Once you dive into the deep end, more opportunities will show up for you.
In this article, we mention why branding, niche, and standing out are so counterproductive to your success and explain what you should be focusing on instead.
We hope by the end of this article you will stop doubting yourself with all the research on different types of writing and will have the confidence to start applying for paid writing gigs.
How To Overcome Your Writing Challenges
The thing you have to understand is that you are just getting started and your work is going to be mediocre for a while. We think this aspiration has risen from wanting to create a niche for yourself or maybe because clients may not hire you unless you are special in some way.
Our goal is to help you have real progress. Aim for good enough, not perfection to start with.
Remember nobody comes in and produces an exceptional marketing asset right out of the bat.
Everyone has their writing style, and that's unique! As a freelance writer, you are usually writing for someone else, which means you have to adhere to what they want and need. Most companies have a style guide or other technical tips to help freelancers fit with their company voice. In this case, you'll want to get your hands on these or talk to your client clearly about what they want.
The longer you spend practicing and researching the longer it is going to take for you to get good at this
This means two things:
1. Don't wait to start getting paid clients.
2. Start practicing on real clients.
For example, a doctor practicing on dummies. Although you get to practice procedures on dummies, it will never be a real-life experience to give you those skills. Practice is working with real clients on real projects and seeing it go from there.
Collect Client Testimonials
Once you start working with real clients, simply ask for a brief testimonial that you can share. As you begin to grow in your freelance writing business, you'll want to start collecting testimonials. These are great features that you can use to attract more potential clients to want to work with you based on your good reputation and work.
Whether you spend a month or a year researching all types of copywriting, your first sales page may not be an outstanding one.
We know this may not be everyone's approach to life but if you accept this now you will go a lot further faster. The best thing to do now is not to focus on being exceptional or focus on branding.
Set Goals
As a new freelance writer, your priority should be to get out there and get clients. Get precise about goals such as planning to reach out to at least 5 potential clients each week and to write at least 1 paid blog article per week.
When you decided to become a freelance writer, did you already know someone who is doing the same? Could they direct you towards any freelance writing opportunities? If not, do not worry, as there is an abundance of other ways to catch freelance writing gigs.
1. Cold Pitching – This is our first choice because it could be the best way to find your ideal client. Cold pitching is when you approach potential clients to offer your writing services. Many websites and companies are looking for guest writers, and this could be just what you need to go off on your freelance writing career.
2. Traditional Job Boards – Such as Linkedin, Fiver, and HireWrite. Many writers will be able to find relevant freelance writing jobs on these designated online platforms. You can promote yourself as a writer and be known to potential clients.
3. Join writing groups – Be it online on Facebook, Linkedin, Twitter, or other social groups. This is a good place to share tips and ideas, and also find experienced freelance writers who will also be happy to share their knowledge. Building likewise connections will only strengthen your writing career.
It should not matter where you will get your clients or how much they are paying you at the beginning. When you get to start working on real projects this will then help you develop your expertise and the goal becomes more clear and easier to reach.
Keep Your Goals Lighter and Attainable
People looking to stand out only staring shining and popping off in their careers many years down the road. The problem is some may not even make it that far because not being exceptional is demotivating. You will just have to push through this as that is just the reality. The more intentional you are about getting better the quicker you will make it through that stage.
Many aspiring writers are daunted by going freelance and as with any self-employed work you may find yourself with imposter syndrome. However, hard work leads to fruitful rewards.
Benefits Of Being A Freelance Writer
1. No more 9-5 office life – This means being in charge of yourself and choosing whom you want to work with and how you want to work. You are your only boss, there is nobody above you. You choose to make your work more enjoyable and relaxed.
2. Flexibility – This is the biggest perk of being a freelancer, to be able to work where and when you choose. Imagine having a good work-life balance where you fit your work around your plans and lifestyle. Imagine working from the comfort of your desired setting instead of being stuck inside an uninspiring office. A great option for anybody and especially for stay-at-home moms.
If you're looking to start a freelance writing business, check out the HireWrite academy where we show you How To Build a Profitable Freelance Writing Business in 30 Days.
Subscribe to our newsletter
Get the best new writing jobs and HireWrite updates straight to your inbox.
Looking to start a freelance writing business?
We've created HireWrite academy. Offering the best in the business training to help you get started and build a profitable freelance writing business in 30 days.